A Career That Fits Your Schedule
& Rewards Your Effort
Residential and commercial cleaning work that is flexible, rewarding, and appreciated.
✓ Appreciation for Your Work
No one should feel like "just another employee," stuck in a job that's not a good fit.
Are you tired of being unappreciated or doing meaningless work? You shouldn't have to spend your day stuck at a desk, surrounded by drama. You shouldn't be forced to work weekends or nights. You shouldn't have to scrape by on minimum wage. 
You deserve better.
What's so great about cleaning houses and businesses with the Plum team?
Cleaning is done during typical work hours, Monday–Friday 9am-5pm. 8:30 am, biweekly Tuesday meetings.
You can be home to put your kids on the bus, you don't have to miss "the big game.", you don't need to work weekends or nights, you can take up that new hobby, or go on a weekend adventure!
Earn $700-850 a week! with our performance-based commission program, where your hard work and dedication directly impact your earning potential.
+Tips
+Review Bonus
+Client Referral Bonus
+Employee Referral Bonus
We offer a balance between independence and support. Initially, you'll work side by side with one of us, receiving hands-on training and guidance. Once you feel confident and comfortable, you'll transition to working independently. This means you'll have the autonomy to make decisions, tackle challenges, and stay focused on your tasks and schedule. Plus, you'll have the freedom to enjoy music, books, podcasts, or any other form of entertainment.
We're not claiming that cleaning is a weight-loss program, but it is hard work that's good for your body. Lifting, stretching, pushing, reaching… it is like a functional workout. Here's a chance to get out from behind a desk or away from a screen.
When you're done cleaning, you can see the difference. Not only have you cleaned someone's space, you've made their life better. You get to see the counters sparkle and the homeowners smile.
You will never have to wonder if you're doing a good job. We will let you know. The client will let you know. You're providing a valuable service. If you're doing the work well, you'd better get used to hearing "thank you so much," "great job," "you're wonderful."
"It's awful to work at a job where you feel replaceable. I've done that because I had to. Now that I'm a part of the Plum team, I feel needed. Every day, I accomplish something that people appreciate. I finally feel like I'm doing something significant. I feel like I belong, and I love it."
You deserve a job that is flexible and rewarding.
It's hard to find a job with flexibility that pays well and that values your effort. At Plum, we employ a team of top-quality residential and commercial cleaners who are paid well for doing meaningful work and are appreciated every day.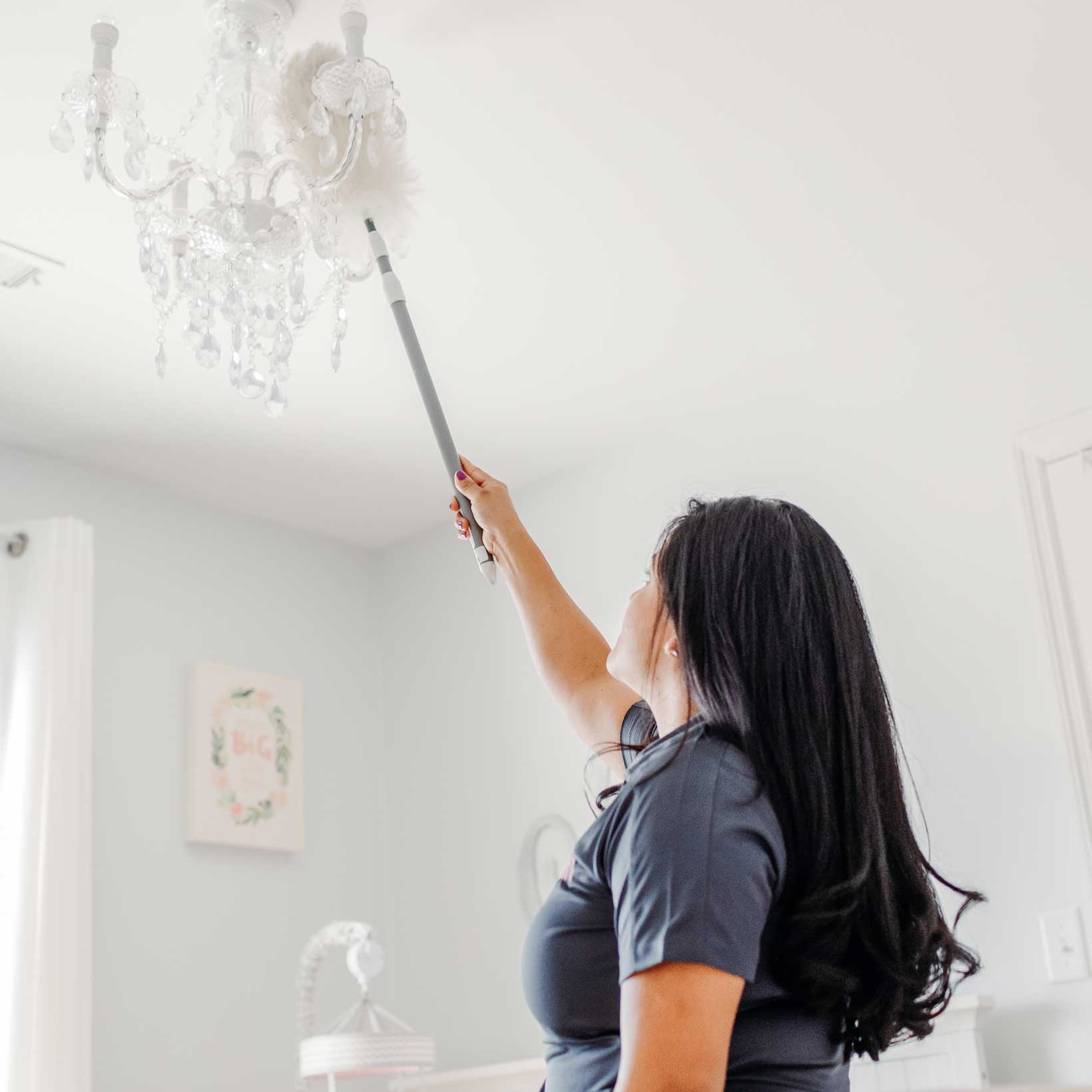 What makes a good cleaner? We're looking for team members who:
Like solving problems
Pay attention to details
Are reliable
Manage their time well
Are friendly toward clients and co-workers
Enjoy working hard
Are self-starters
Like to work independently
Will follow directions and use our proven methods
How to start your cleaning job with Plum:
1. Apply Online
Click any "Join Our Team" button to submit an application. Successful applicants will be able to SELF schedule an interview!
2. Receive One-on-One Training
Once you're hired, we provide all the coaching and supplies you need to be successful.
3. Choose Your Schedule
You will start with training and an initial part-time schedule that helps you succeed. Once we and YOU are confident in your skills, you will have the opportunity to work full time. 
Frequently Asked Questions
CLOSED
What kind of experience do I need to work at Plum?
We don't require any prior experience. Whether you've been a house cleaner for fifteen years, or you have never touched a mop before, we would be more than happy to have you join our team of cleaners! We train every cleaner on our methods so that expectations are clear and our clients get consistent cleanings.
What happens after I submit my application?
Successful applicants will be able to SELF schedule an interview!
If your application was not successful we encourage to apply again for future job openings. Any questions feel free to call 814.264.3947
How many hours can I work in a week?
Full time workers average 33+ hours a week. 
Can this be a second job? I'm already a parent / student / employed somewhere else?
You need to be able to work for us Monday-Friday 9:00AM–5:00PM, and bi-weekly Tuesday 8:30am meetings. 
What do you mean by "flexible schedule"?
We get it being an adult is hard, we have to pay our bills, run errands, and go to the DR and sometimes there is just not enough time, so we will work with you to make sure you can make time for important dates.
How do I find out my schedule?
We use an app called Jobber for all our scheduling needs. During your onboarding, we will have you download the app. You will use the app to view your schedule for the week.
What time do I have to arrive at work each day?
Monday-Friday at 9am. Every other Tuesday 8:30am. 
What is the pay range?
Earn up to $750/week with our performance-based commission program, where your hard work and dedication directly impact your earning potential. 
**During your training period, trainees will be paid at $14/hour, as they learn and develop the skills needed to become a top-performing cleaner. Our comprehensive training program can last up to 3 months **
+Tips
+Review Bonus
+Client Referral Bonus 
+Employee Referral Bonus
When and how often will I get paid?
We pay our employees weekly, on Friday.
Can I get tips from my clients?
Some clients choose to tip their cleaners. We don't expect them to, and you should never ask for one. However, if you're given a tip, it's yours to keep. If you are working with another cleaner, we ask that you split any tips you receive.
Will people be at home when I'm cleaning?
It varies from client to client, but typically, yes, they will be in the home. COVID-19 has caused many of our clients to remain at home during the day, so you will likely be cleaning while they are around. Rest assured, we also ask our clients to maintain social distancing while you are there. They will not be in your way while you clean.
CLOSED
What are your COVID-19 safety protocols?
We require all our cleaners to maintain social distancing and sanitize their hands often. Upon client request you will be required to wear masks, gloves, and shoe covers.
Will I always work alone?
For the most part, yes. During your training period, you will receive hands-on training every day from one of our trainers. After we and YOU feel confident in your skills, you will be sent out on your own. From there on, you will be subject to random quality checks to ensure that you are upholding our pristine clean standard.
You may be assigned to work as part of a team if a certain job is too difficult for one cleaner to perform alone.
Do you provide all of the supplies I need?
Yes! Our office is stocked with all manner of cleaning supplies and tools. We will provide everything that you need. The only thing we need you to bring is yourself!
Can I really listen to what I want while I work?
If you wear headphones, yes! We encourage you to listen to music, podcasts, audiobooks, lectures, etc. as you work!
What does a typical day of cleaning look like?
This example is for someone cleaning full-time (an 8-hour day):
9am-12pm-You will arrive at your first client's house promptly at 9:00 AM. Once you arrive, you will clock in, and begin cleaning the house from top to the bottom. At Plum, we do not cut corners, and we leave no surface of the house untouched. Unlike other cleaning companies, we always clean every room in the house before we leave. Once you have finished with the first house, you will drive to your second house
12pm-12:30pm-We encourage that between your first house and second house you take your paid 30 minute lunch break.
1pm-5pm-You will again clean from top to bottom. Once you complete that house, you will clock out, and head home.
Do I need to have a driver's license and my own vehicle?
Yes, we require you to have both because our cleaners use their own vehicle to drive from job to job. You also will need to store cleaning supplies in your vehicle to use as needed.
How far will I have to drive to different jobs?
You should expect to travel between 5–30 minutes from your home. We service many areas in Central PA, including Bellefonte, Boalsburg, Port Matilda, State College, and Spring Mills. Having said that, we try to take the living situations of our cleaners into account before we make the schedule. So, if you live in Port Matilda, we will do our best to have you clean houses in that area so your travel time is minimized.
We also try to factor in the time it takes between two jobs, so your travel time at work is minimized as well.
Will you do a background check and drug test?
Yes. We require all cleaners to take and pass a background check and drug screen.
What happens if I get injured on the job?
It depends on how serious the injury is, but if the injury is severe enough, the first step is to contact us, and we will send an ambulance to you if necessary. Then we will pay for your hospital bills via worker's compensation. Rest assured your job will still be here if you must take off for an extended period.
Where is your office located?
State College: 233 Easterly Parkway Suite 100B, State College PA 16801
What's the story behind Plum?
The roots of Plum began long ago when Blanca was just a child. Her mother, Angie, would take her along to her house cleaning job during the day, and in the process taught her how to clean like an absolute superstar. No cutting corners, no compromises, just a pristine clean every time.
In 2016, when Blanca found herself at the end of her rope, raising two kids while working three jobs, she used those valuable lessons about cleaning and hard work and formed "Blanca's Detailed Cleaning." What began as a small business with a handful of clients has grown into a flourishing business, overflowing with satisfied customers. Many of those customers hired Blanca because they were unsatisfied with a competitor's efforts!
Then in 2020, Blanca decided it was time for a change. A new name, a new logo, but the same rock-solid standards that made Blanca's Detailed Cleaning a household name. The new name, "Plum," is a word that can be used to describe something that is the absolute best, a shining beacon of guidance and inspiration.
In 2020 and beyond, Blanca plans to grow Plum's clientele and to expand Plum's famous "Pristine Clean" to other parts of the U.S.
"I was tired of doing boring and undervalued work. I wanted to try cleaning. I didn't have any experience, but the pay was nice, and I could listen to music while I cleaned. My decision to join the Plum team was a great one! The work is interesting and satisfying. And, I get rewarded and recognized for my effort."
Work that fits your schedule and rewards your effort.